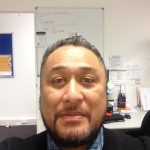 Education & Career Guidance/Kaitautoko
I am of Samoan decent and schooled and lived in Porirua for most of my life. I have an extensive Social Work / Social Services background and currently enjoying supporting our local young people with their Education, Employment and Societal needs.
I am culturally engaged and have built successful relationships in and around our local education and community based agents.
I am passionate about helping people of all walks of life and look forward to meeting you and your whanau for a chat about how we can help.
"The biggest barrier to reaching your goals is yourself"