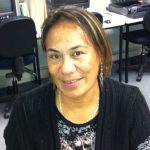 Manager
Talofa lava!  
As Manager, I am proud to share how The Learning Shop is a wonderful educational, community facility open five days a week, where you can access free information on a variety of educational pathways, community courses, employment options as well as career guidance from my careers trained team. Computers are also available for doing your own CV or for job searching.
A proud resident of Porirua since 1965, I bring to The Learning Shop my vast management experience, having worked in the education and public sector with my strengths being community relationships and a passion for working with multicultural and disadvantaged groups to be able to make a difference.
My employment background experience has been in a variety of roles including, Careers Advisor role, intermediate and secondary teaching, Probation Services working with those who have entered the Justice systems and also having strategic policy and planning experience.
My team will support and give you one-on-one assistance and always with a smile.
Kia Ora and we look forward to helping you in your pathway to the future as our motto says, He huarahi ki mua (Pathways to the future).